iPad Air4 Price in Pakistan (64GB, WiFi, 2020) – AppleKid.Pk
₨114,999
Disclaimer : Apple iPad Air 4 64GB WiFi 2020 price in Pakistan is updated on daily basis and rate/price for Apple iPad Air 4 64GB WiFi 2020 is valid for all cities of Pakistan included Islamabad, Rawalpindi, Lahore, Karachi, Faisalabad, Peshawar, Sialkot, Quetta etc. Apple iPad Air 4 64GB WiFi 2020 price depends on many factors thats include the price of dollors, manufacturar price and import cost and duties etc. Our team entered specs from diffrent resources and not responsible for any typo error in specs for Apple iPad Air 4 64GB WiFi 2020, please report any such error in bug report panel for Apple iPad Air 4 64GB WiFi 2020. Apple iPad Air 4 64GB WiFi 2020 price in Pakistan.
iPad Air4 price in Pakistan model 2020 64Gb
Apple in September 2020 updated the iPad Air with a fourth-generation model. It features a radical redesign that brings it closer in design to the iPad Pro. Priced at Rs.1,10,000, the iPad Air is a middle-tier option between the low-cost Rs.1,10,000 eighth-generation. The more expensive iPad Pro, priced starting at Rs.1,40,000. Apple Ipad Air 4 Price in Pakistan model 2020 64Gb wifi 
The iPad Air features a 10.9-inch edge-to-edge display with a 2360×1640 resolution, 3.8 million pixels. Its design that's similar to the iPad Pro with an aluminum chassis that features flat, rounded edges that wrap around the fully laminated display. True Tone support includes adjusting the display to match the ambient lighting, as P3 wide color, 500 nits brightness, and 1.8 percent reflectivity.
Colors in iPad air and Price in Pakistan with specs
iPad Air 4 price in Pakistan come to the first iPad to offer unique color options similar to iPhone colors. The iPad Air is available in silver, space gray, rose gold, green, and sky blue. What's most unique about the iPad Air is the new Touch ID sensor integrated into the top button. It's first for an Apple device. iPad Air price in Pakistan depends upon the dollar exchange rate in Pakistan.
The iPad Air does not feature Face ID and relies solely on Touch ID for biometric authentication purposes. The Touch ID functionality is the same as other devices that feature Touch ID.
Bionic chip in iPad
Apple's new iPad Air includes a 6-core A14 Bionic chip, which is Apple's newest A-series chip built on a 5-nanometer process. The 2020 iPad Air got an A14 chip first. According to Apple, the A-series chip provides 40 percent faster CPU performance. it includes a 30 percent improvement in GPU performance thanks to the new 4-core GPU architecture.
The A14 chip includes a new 16-core Neural Engine that's twice as fast as the Neural Engine in the prior-generation chip. There are second-generation machine learning accelerators for 10 times faster machine learning calculations.
No Face ID in iPad air4 price and specs
Like the iPad Pro, the iPad Air supports the Rs.23,500  second-generation Apple Pencil.  its works with the Rs.50,000 Magic Keyboard with a trackpad that Apple offers.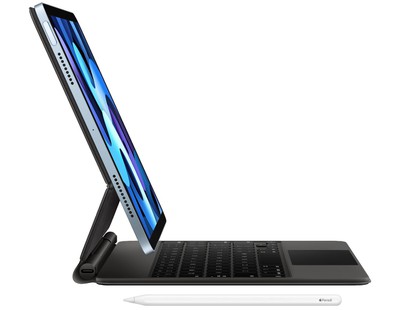 Pricing starts at Rs. (Call/Whats App 03111-786-787) for 64 GB of storage. 256GB of storage is available at Rs. (Call/Whats App 03111-786-787). Base prices are for WiFi models, with Cellular models available for an additional cost.
Ipad Air 4 Price in Pakistan shop online with same-day delivery from Lahore.
Reviews of iPad air4 price and specs
Reviewers have been largely impressing with the iPad Air, and the consensus is that it's the best tablet.
Touch ID: iPad Pro
Apple's iPad Air doesn't have the 120Hz ProMotion refresh rate that the iPad Pro does. Reviewers found the iPad Air's display to be perfectly adequate.
A14 Chip in iPad Air
Design: Apple iPad
Measuring in at 10.9 inches, up from 10.5 inches for the prior iPad Air model. The 2020 iPad Air has seen a major redesign with an edge-to-edge display. It,s similar to the display of the iPad Pro. The aluminum chassis features flat, rounded edges that wrap around the Retina display. This is a design that Apple first used for the iPad Pro.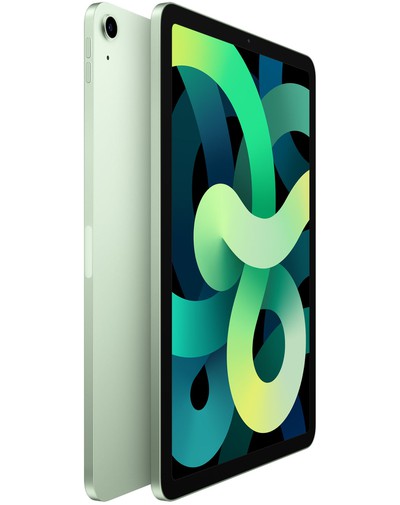 iPad Pro left, iPad Air middle, iPad right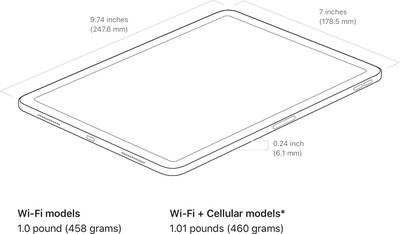 Display Design: iPad 2020
Apple's prior iPad Air model had smooth, tapered edges that were rounded. The new design features a flatter, more industrial look that matches the iPad Pro and the upcoming iPhone 12 models.


This is the first iPad Air that has had an all-display design, and there is no Touch ID Home Button. It scans a fingerprint just like the Touch ID Home Button. it's smaller and more compact. Speakers and a microphone are located at the top of the iPad Air adjacent to the Touch ID button.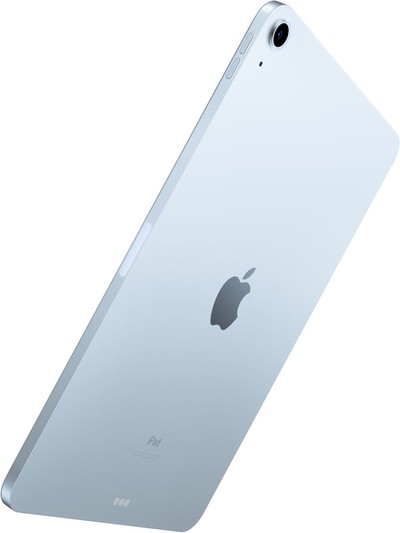 360 Look: Apple iPad Air
The right side of the iPad Air features volume up/down buttons. It includes a nano-SIM tray on cellular models and a magnetic space for charging the Apple Pencil. At the back, there's a single-lens rear camera with a microphone.
Stereo speakers and a USB-C port are located at the bottom of the iPad Air.
Colors in New iPad
The aluminum shell of the iPad Air is available in five colors. This is the first time that Apple has offered an iPad in a brighter non-traditional shade. The iPad Air comes in silver, space gray, rose gold, green, and sky blue.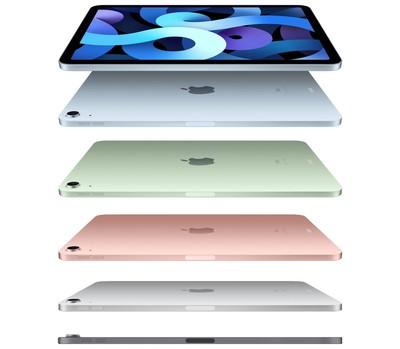 Apple introduces three brighter color options – rose gold, green, and sky blue. – It differentiates the 2020 iPad Air from the 2020 iPad Pro.
Touch ID in iPhone iPad
The iPad Air is the first iPad or iPhone to have a Touch ID that's not built into the Home button of the device. Apple included Touch ID in the iPad Air's top button. It allows for Touch ID-based biometric authentication without the need for thick bezels that obscure the screen.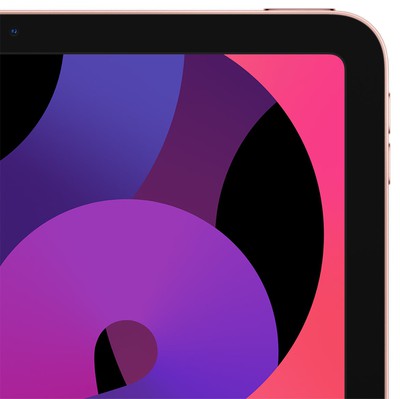 The Touch ID top button works just like the Touch ID Home button and it can be used to unlock the iPad. It accesses apps and makes purchases with Apple Pay, and more.
Smart Connector new iPad Pro
The Smart Connector at the back of the iPad Air allows it to communicate with and power accessories like the Magic Keyboard. Accessories that connect to the iPad Air using the Smart Connector do not need to have batteries.
USB-C with iPad price in Pakistan
With the USB-C port, the iPad Air can be connected to 4Kor 5K displays, cameras, and other USB-C devices. The USB-C port supports 5Gbps data transfer and can charge an iPhone or Apple Watch with the right cable. USB C Hub price in Pakistan is Rs7500.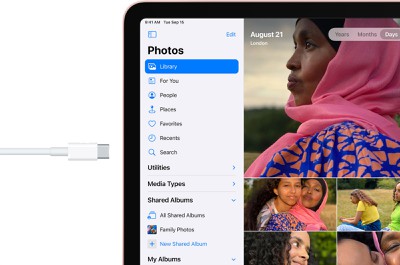 Display iPad Air4
The iPad Air is equipped with a 10.9-inch Liquid Retina display.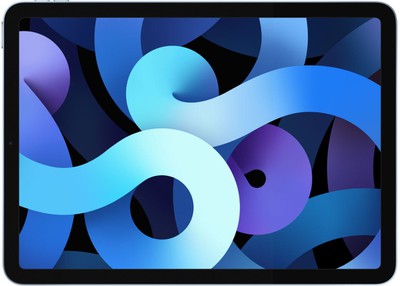 Resolutions: iPad Air4
It has a resolution of 2360 by 1640 at 246 pixels per inch and 3.8 million pixels total. It has full lamination which shrinks the display thickness and makes content appear more immersive. P3 wide color support for rich, true-to-life colors. An anti-reflective coating with 1.8 percent reflectivity, 500 nits brightness, and True Tone support.
True Tone adjusts the white balance of the display. It matches the ambient lighting to make the screen easier on the eyes. The iPad's display will contrast between the color of the iPad and the lighting in the room.
Apple Pencil Support iPad Air4
Apple's latest iPad Air works with the second-generation Apple Pencil, which was originally released in 2018 alongside the iPad Pro.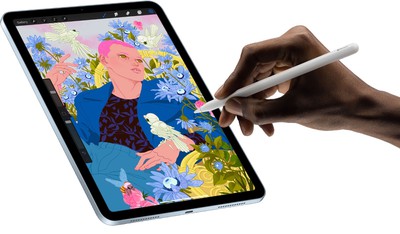 A14 Chip iPad Air4
Apple is using its latest 5-nanometer chip technology in the iPad Air, with the tablet equipped with a 6-core A14 Bionic chip.

According to Apple, the A14 chip is equipped with 11.8 billion transistors, bringing increased performance and power efficiency.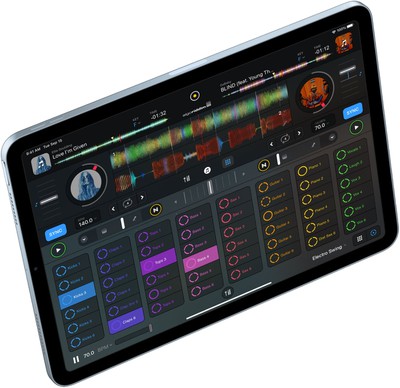 RAM in iPad Air4
Based on the aforementioned leaked A14 benchmark confirms that the iPad Air has 4GB RAM, up 1GB from the 3GB in the prior-generation model.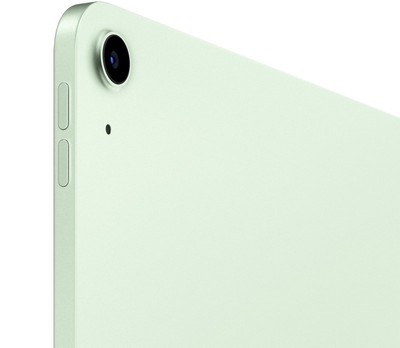 Camera Performance of iPad Air4
Autofocus with Focus Pixels, wide color capture, exposure control, Smart HDR, auto image stabilization, noise reduction, and more.
Experience 4K Video at Store Apple
4K video recording support at 20, 30, or 60 frames per second, as is a slo-mo video at 120 or 240 frames per second.
Battery Life of iPad Air4
The iPad Air charge using an include 20W USB-C power adapter and USB-C to USB-C cable.
Other Features iPhone iPad
Microphones and Speakers iPad Air 2020
The iPad Air features two sets of speakers for stereo sound in portrait and landscape mode. Dual microphones include calls, video recording, and audio recording.
Sensors in iPad
Along with a Touch ID sensor, the iPad Air features a three-axis gyro, an accelerometer, a barometer, and an ambient light sensor for True Tone and other features.
iPad Air 4 support for Wifi 6 and Bluetooth 5.0
The iPad Air 4 supports WiFi 6 known as 802.11ax.
Gigabit LTE iPad Pro
Gigabit-class LTE becomes available in the cellular iPad Air models and the LTE modem chip is similar to the chip included in the iPad Pro.
Support for bands 1, 2, 3, 4, 5, 7, 8, 11, 12, 13, 14, 17, 18, 19, 20, 21, 25, 26, 29, 30, 34, 38, 39, 40, 41, 46, 48, 66, and 71 include.
2 SIM Support: iPad Air
The two SIM options in the iPad Air: a physical nano-SIM slot at the side of the device and an eSIM, or digital SIM, which design to work without the need for a physical SIM card.
The physical nano-SIM slot supports the Apple SIM that design to let users swap between carriers without a hassle.
Storage Space Apple iPad
Apple sells the iPad Air with 64GB of storage or 256GB of storage, with no middle tier 128GB storage option available.
Accessories of iPad air 4 Price and details
Magic keyboard for iPad Air 4 2020
The Magic Keyboard uses scissor mechanisms much like the keyboard of the MacBook Air and the MacBook Pro. The scissor mechanism provides 1mm of travel, for what Apple says is the best typing experience ever on iPad.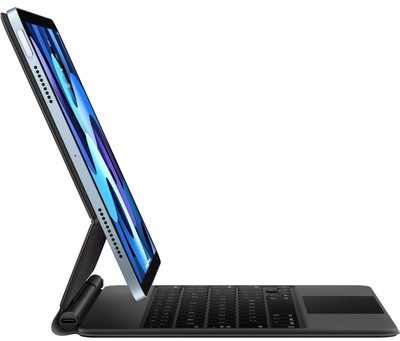 Magnetic attachment with iPad air 4 Price and Specs
The Magic Keyboard attaches to the iPad Air through a magnetic connection. It features cantilevered hinges that work on a desk or a lap. The hinges allow for adjustments of it, the viewing angle up to 130 degrees of iPad. It can be tweaked for every usage situation.
A USB-C port includes on the Magic Keyboard for passthrough inductive USB-C charging capabilities, leaving the iPad Air's built-in USB-C port free for accessories like external drives and displays.
Apple Pencil compatible with iPad Air 4 Price and Specs
2020 iPad Air models become compatible with the second-generation Apple Pencil 2 Priced at Rs.22,999. It functions and charges like iPad pro models. Pairing does through the magnetic attachment.

Gesture support includes the second-generation Apple Pencil, and with a tap, you can change brushes or quickly switch from a brush to an eraser without having to pick up the pencil and select a new tool.
The Apple Pencil works across the iPad Air, with first and third-party apps.
How to Buy iPad Air4 Price and Specs in Pakistan
visit www. apple kid. pk or visit our outlet at 25-G, Hassan Tower Gulberg III Near ChenOne and Pace Lahore.