watch OS 8
Apple Watch runs an operating system called watch OS, and the Apple Watch Series 7 comes with watch OS 8 installed. The watch OS 8 update introduces new features to help users stay healthy, active, and connected to friends and family, with most of the new additions serving as extensions of changes added in iOS 15.
There are several improvements to Wallet, including Ultra Wide band support for digital car keys, and new digital keys for unlocking doors at home, the office, and hotel rooms. All of these new key features work with the Apple Watch's tap to unlock feature. In some states, users will be able to add their driver's license or state ID to Wallet, and select TSA checkpoints will begin accepting digital IDs.
Home App
The Home app has been overhauled to make it easier to get to Home Kit accessories and scenes as needed, with status updates for thermostats, light bulbs, and other accessories. Home Kit devices can be controlled by room, and those with Home Kit enabled cameras can now see who is at the door right on the wrist. For Intercom users, there's a quick tap feature for getting in touch with everyone in the home.
Apple has added two new workout types with Tai Chi and Pilates, which can be selected when choosing a Workout on the Apple Watch. For Apple Fitness+ users, there's Picture in Picture support, filter options, and options to stop and resume an in-progress workout on any device.
Mindfulness app
The Breathe app is now the Mindfulness app and it has been enhanced with a new Breathe experience and a Reflect session for mindful intention. Reflect gives users a thoughtful notion to consider that invites a positive frame of mind. The Breathe and Reflect experiences offer new animations and a series of tips on meditation.
When sleeping, the Apple Watch now measures respiratory rate (the number of breaths per minute) in addition to time asleep, heart rate, and blood oxygen. Respiratory data can be viewed in the Health app and is a metric that can be used to track overall wellness.
weather app
There's a new Portrait Watch Face that pulls portrait photos from the iPhone and uses the depth data to overlay the time with the faces of your favorite people, and the Photos app has been redesigned with new ways to view and navigate collections. Memories and Featured Photos sync to Apple Watch and can be shared right from the wrist.
Apple added a dedicated Find Items app for locating your lost devices, and the Music app has been redesigned to let users share songs, albums, and playlists. The Apple Watch weather app supports Severe Weather notifications, next hour precipitation alerts, and updated complications.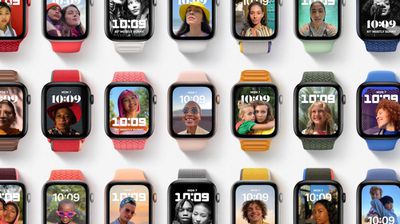 Messages app
In the Messages app, Scribble, dictation, and emojis can be combined within the same message, and there's a new option to edit dictated text. The Apple Watch supports sending GIF s in Messages with watch OS 8, and there's now a Contacts app to make it easier to get in touch with people when an iPhone isn't available.
The Focus feature added to iOS 15 also syncs to the Apple Watch so you can reduce distraction and be in the moment to focus on the task at hand. Apple also suggests Focus modes, so if you're working out, you'll be prompted to choose the Focus for fitness option.
watch OS 8
watch OS 8 introduces support for multiple timers at once, and more apps support the Always-On display. This include Maps, Mindfulness, Now Playing, Phone, Podcasts, Stopwatch, Timers, and Voice Memos. Third-party developers can create Always-On display experiences for their apps.
Apple has add an Assistive Touch feature that uses the built-in sensors in the Apple Watch to detect hand gestures for control purposes.
There are many more new features included in watch OS 8, so make sure to check out our full watch OS 8 roundup for more details.