Apple watch band (Spigen durapro flex, 42mm, 44mm, 45mm, 49mm, Black, Blue, Red, Green)
₨4,999 (-20%)
Applekid.pk brings you the best price for Apple Watch Band (Spigen sports straps, 49mm, 45mm, 44mm, 42mm, 41mm, Green, black, red, blue) Buy online with same-day delivery from Lahore to Karachi, Islamabad and across Pakistan.
Description
Apple watch band (Spigen dura pro flex, 42mm, 44mm, 45mm, 49mm) price in Pakistan
Are you looking for a watch strap to give your Apple Watch a different look? On this page, you can find all the watch straps for Apple Watch. Choose a plastic strap if you also want to wear your smartwatch when you work out. Do you prefer a classy strap? View the leather or metal wrist straps. The Watch Series 8 and 7 come in 2 sizes 41 and 45mm. For 41mm, you use straps of 38, 40, or 41mm. For the 45mm version, you can use straps of 42, 44, and 45mm. Do you have the Apple Watch 40mm? In that case, straps for the Apple Watch 38mm also fit your watch case. The same applies to the Apple Watch 44mm. The Apple Watch 42mm straps fit the Apple Watch 44mm as well and the other way around. Make sure you choose a watch strap that fits your Apple Watch watch case.
Hot apple watch band Spigen dura pro flex provides an elegant look to your iWatch of every kind and size.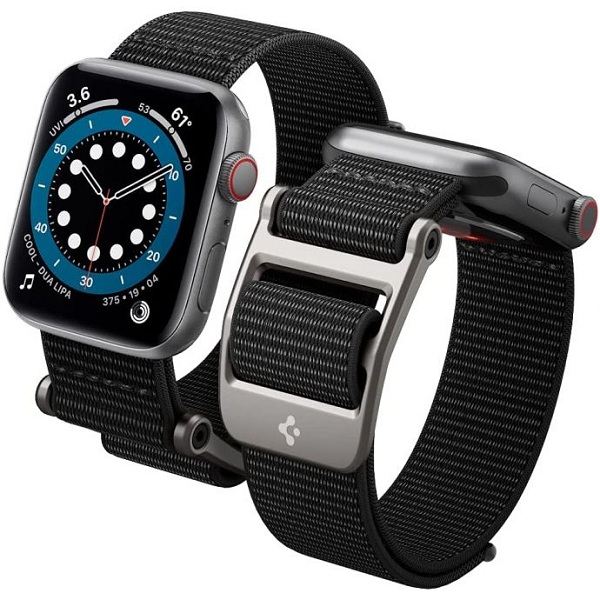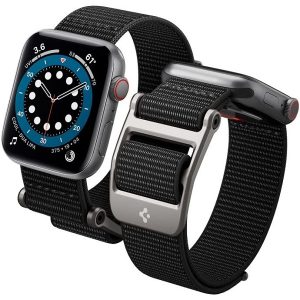 Watch Band for 49mm, 44mm /45mm/42mm Fit by Spigen for Models 8/7/6/SE/5/4/3/2/1 – Navy Blue – Black- Red- Green- AMP02287 Apple
₨4,999
Brand
Spigen
USP
Watch Band
Device Model
Apple Watch 1, Apple Watch 2, Apple Watch 3, Apple Watch 4, Apple Watch 5, Apple Watch SE

Apple Watch 6, Apple Watch 7, Apple Watch 8, Apple watch Ultra

Color
Blue, green, red, and black
Description:
Apple Watch Band Lite Fit by Spigen comes with a durable mesh fabric that is lightweight, and durable for ever-lasting comfort.
Fits flush on any wrist with an easy removing clip design

Simple and timeless to compliment any look and style

Lightweight but durable fabric for lasting comfort

Hassle-free installation and removal with Apple Watch adapter

Compatible with Apple Watch Band 45mm, 44mm 42mm, Series 8, 7, 6/SE/5/4, and 42mm Series 3/2/1
Easy Installation
Simply press the release on the watch and slide.
Adjustable loop band
Find the fit that's perfect for you. The buckle cannot be removed from the band.
Everyday essential
Keep it comfy and casual.