Imac M1 Chip 2021 16Gb/512Gb, 24-Inch (MJV93, 8Cpu, 8Gpu, Retina 4.5k) Price in Pakistan
Call for Price
AppleKid.pk brings you the Imac M1 Chip 2021 8Gb/512Gb, 24-Inch (MJV93, 8Cpu, 7Gpu, Retina 4.5k) price in Pakistan with same day delivery from Lahore, & across Pakistan
Apple iMac M1-Chip 2021 8Gb/512Gb, 24-Inch (MJV93, 8Cpu, 7Gpu, Retina 4.5k) Price in Pakistan
This extraordinary design is only possible thanks to M1, the first system on a chip for Mac. It makes the iMac so thin and compact that it fits in more places than ever. Apple iMac M1-Chip 2021 8Gb/256Gb.
See the big picture. And all the details. Apple iMac M1-Chip 2021
See it all in sharp, glorious detail on the immersive 24-inch 4.5K Retina display.2 The P3 wide color gamut brings what you're watching to life in over a billion colors. Images shine with a brilliant 500 nits of brightness. Industry-leading anti-reflective coating delivers greater comfort and readability. And True Tone technology automatically adjusts the color temperature of your display to the ambient light of your environment, for a more natural viewing experience. So whether you're editing photos, working on presentations, or watching your favorite shows and movies, everything looks incredible on iMac.
1080p FaceTime HD camera. Ready for your close-up.
It's the best camera system ever in a Mac. Double the resolution for higher-quality video calls. A larger sensor that captures more light. And the advanced image signal processor (ISP) of M1 greatly improves image quality. So from collaborating with coworkers to catching up with friends and family, you'll always look your best.
The ISP on M1 uses computational video to enhance image quality. To capture stunning video, it goes through a series of steps to analyze and enhance each pixel, at over a trillion operations per second. Advanced noise reduction algorithms bring a new level of clarity. Tone mapping delivers enhanced dynamic range, for more detail in bright highlights and dark shadows. And it works with the Neural Engine in M1 to make more intelligent exposure and white balance adjustments so you look just right in any light.
Studio-quality mics.For high-quality conversations.
Whether you're on a video call with a friend, cutting a track, or recording a podcast, the microphones on iMac make sure you come through loud, crisp, and clear. The studio-quality three-mic array is designed to reduce feedback, so conversations flow more naturally and you interrupt each other less. And beamforming technology helps the mics ignore background noise. Which means everyone hears you — not what's going on around you.
Six-speaker sound system. Audio that really fills a room.
The sound system on iMac brings incredible, room-filling audio to any space. Two pairs of force-canceling woofers create rich, deep bass without unwanted vibrations. And each pair is balanced with a high-performance tweeter. The result is a massive, detailed soundstage that takes your movies, music, and more to the next level.
Thanks to the redesigned speakers and advanced algorithms, iMac now supports spatial audio when playing video with Dolby Atmos. And when you combine that with the 4.5K Retina display, it's like bringing the whole theater home.
M1 and Big Sur. With great power comes great capability. Apple iMac M1-Chip 2021
M1 is the most powerful chip we've ever made. macOS Big Sur is the most advanced desktop operating system in the world. Combined, they take iMac to entirely new levels of performance, efficiency, and security. iMac wakes from sleep almost instantly, apps launch in a flash, and the whole system feels fluid, smooth, and snappy. With up to 85 percent faster CPU performance and up to two times faster graphics performance than standard 21.5-inch iMac models, you can use apps like Xcode and Affinity Photo to compile code in a fraction of the time or edit photos in real-time.4 And it runs cool and quiet even while tackling these intense workloads. That's the power of the hardware, software, and silicon — all designed together.
There are more apps for iMac than ever before
iMac has apps for just about everything and everyone. With M1 and macOS Big Sur, you can even run many of your favorite iPhone and iPad apps directly on your iMac. And as always, it's easy to search, discover, and download on the Mac App Store.
iMac + iPhone.Quite the pair. Apple iMac M1-Chip 2021
iMac gives you the best of iPhone, on a big, beautiful screen. iPhone lets you access what you need from iMac on the go. And when you use them together, they work like magic.
Keep the color going all the way to your fingertips.
The new iMac features a color-matched keyboard, mouse, and trackpad. Magic Keyboard now has keys for Spotlight, Dictation, Do Not Disturb, and emoji. And for the first time, Touch ID comes to iMac. So you can easily and securely unlock your computer, use Apple Pay, and download apps quickly with just a finger.5
Designed with the earth in mind. Apple iMac M1-Chip 2021
iMac was designed to minimize its impact on the environment. All of the virgin wood fiber in its packaging comes exclusively from responsibly managed forests. The rare earth elements in the speakers, fan motor, and power connector magnets are completely recycled. And we're committed to transitioning our entire manufacturing supply chain to 100 percent renewable electricity by 2030.
Applekid.pk Brings you the Lowest Price Guarantee for iMac 24″ Apple M1 Retina 4.5K 256GB 7-Core GPU and Available Colours are (Green, Silver, Blue, Pink). We Offer Cash on Delivery| Free Shipping| Nationwide All Over Pakistan Just click on the Buy Now button.
iMac 24″ Apple M1 Retina 4.5K 512GB 7-Core GPU, Apple iMac M1-Chip 2021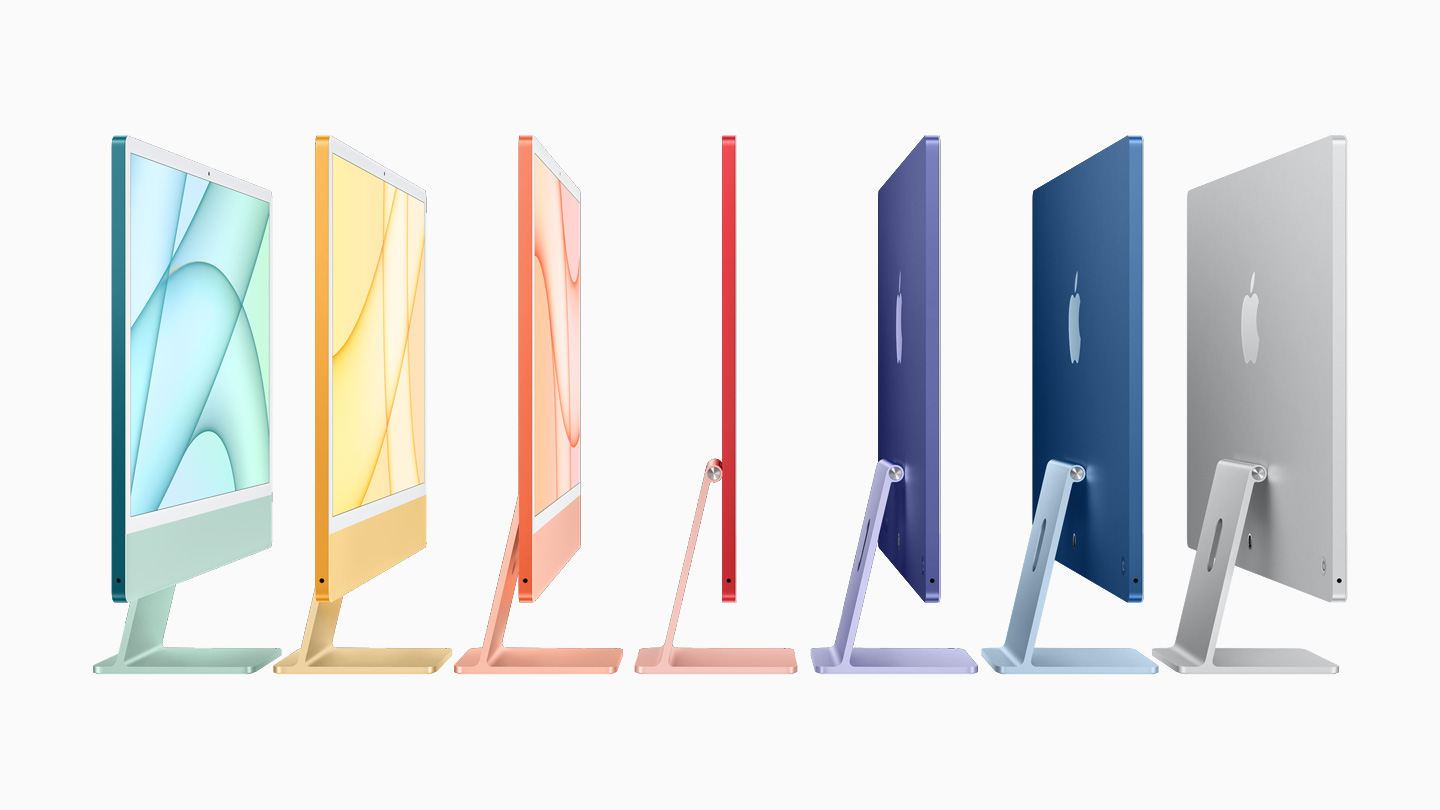 Apple M1 Chip
Packed with 16 billion transistors, the Apple M1 integrates the CPU, GPU, Neural Engine, I/O, and more into a single system on a chip (SoC). Built with 5nm process technology, the Apple M1 delivers the performance you need without sacrificing power efficiency. The Apple M1 features four high-performance cores, each designed to run a single task, which allows for multithreaded workloads. There are also four efficiency cores to handle lighter workloads. Using only a tenth of the power while still delivering fast performance.
Redesign: Apple iMac M1-Chip 2021
The iMac features a redesign with a more compact footprint and a much slicker side profile, measuring just 11.5mm thin.
24″ 4.5K Retina Display
The iMac features a 24″ Retina Display with 500 nits of brightness. The Retina Display features a 4480 x 2520 resolution at 218 pixels per inch (PPI). It also supports the P3 wide color gamut, which features 25% more colors than the commonly used sRGB gamut, for even more vibrant greens and reds. The display is calibrated at the factory for accurate gamma, white point, and primary colors. The screen features an anti-reflective coating to reduce light glare.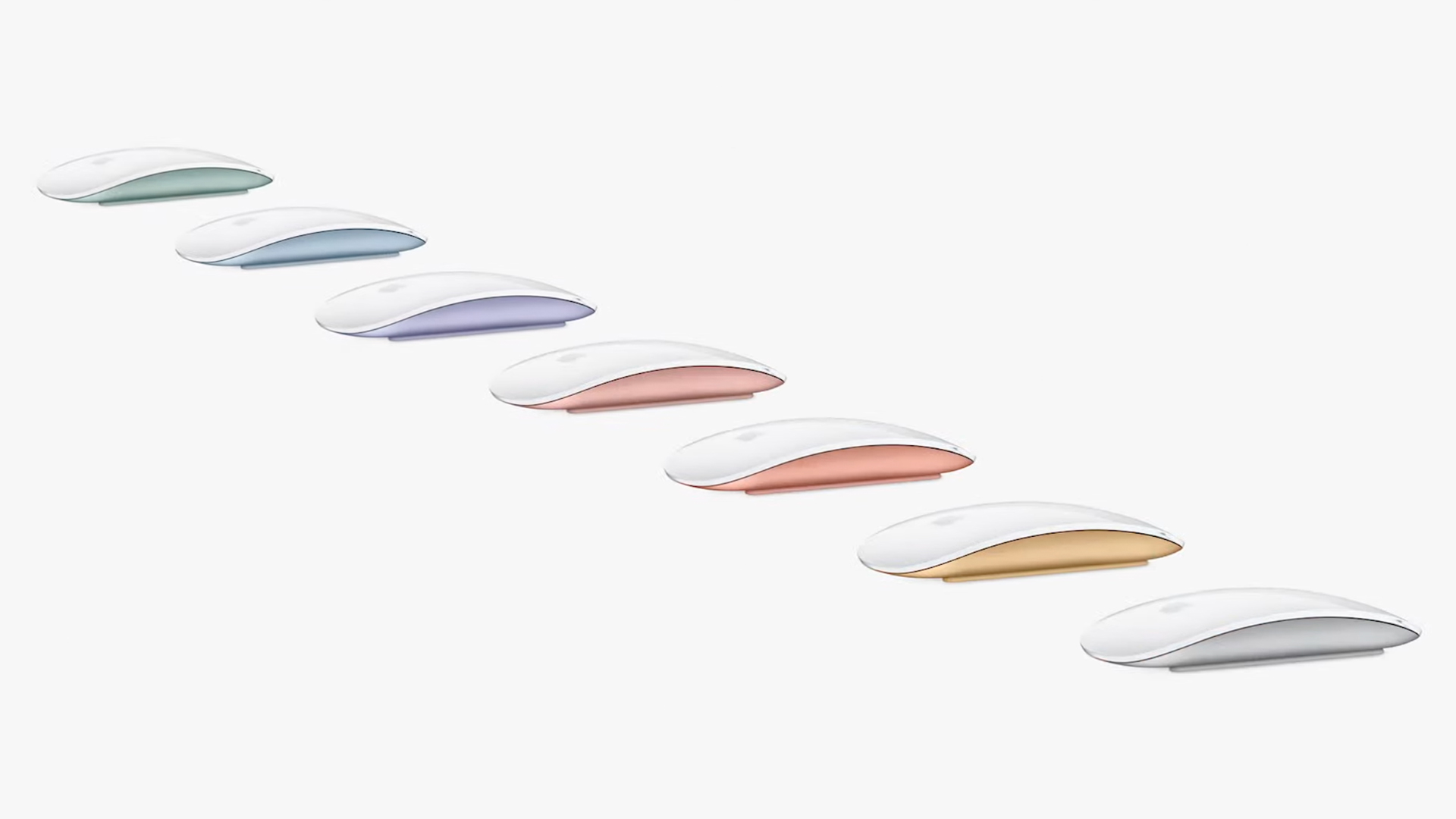 True Tone Technology
With True Tone technology, the display and Touch Bar deliver a more natural viewing experience for design and editing workflows, as well as everyday tasks like browsing the web and writing email.
Magic Keyboard with Touch ID
The color-matched Magic Keyboard features keys for Spotlight, Dictation, Do Not Disturb, and emoji. A Touch ID sensor has been integrated into the Magic Keyboard, so you can quickly log into your account. You can also use it with Apple Pay to securely purchase things over the web.
Thunderbolt 3 with USB4 Support
Thunderbolt 3 is a hardware interface that utilizes the reversible USB Type-C connector. Doubling the speed of its predecessor, Thunderbolt 3 features a maximum throughput of 40 Gb/s when used with compatible devices. The connector also supports USB4, allowing you to connect to more peripherals, including the Apple Pro Display XDR in full 6K resolution.
Full HD 1080p FaceTime HD Camera
The iMac now features a Full HD 1080p FaceTime HD camera, allowing you to host video chats in high quality and provides optimal performance even in low light. The iMac takes advantage of the image signal processor in the M1 chip and the Neural Engine, enhancing camera image quality with better noise reduction, greater dynamic range, and improved auto exposure and white balance. No more grainy video chats for you, you'll be able to connect with friends and family in a high-quality FaceTime call. The studio-quality three-mic array also provides clear calls and voice recordings, thanks to its noise reduction and directional beamforming.
Six-Speaker System with Dolby Atmos Support
The iMac has two pairs of force-canceling woofers placed side by side for an impressive bass response while reducing unintended vibrations. Each pair is balanced with a high-performance tweeter. The result is a six-speaker sound system that produces a sound stage with strong, articulate bass and clear mids and highs. All of these speaker innovations, coupled with advanced algorithms, enable iMac to support spatial audio when playing video with Dolby Atmos.
In the Box
iMac
Magic Keyboard
Magic Mouse
143W power adapter
Power cord (2 m)
USB-C to Lightning Cable