Targus Travel-Topload Laptop BriefCase – 16″ Revolution Checkpoint friendly Case backpack
₨5,499 (-9%)
Applekid.pk brings you the best price for Targus Travel-Topload Laptop BriefCase – 16″ Revolution Checkpoint friendly Case backpack and same-day delivery from Lahore.
Overview
The Targus 15.6" Revolution Checkpoint-Friendly Briefcase has a smart zip-down workstation with dedicated compartments for all of your gadgets and gear, plus a tablet pocket with plush scratch-resistant lining. This Revolution case also makes it easier to zip through airport security with its patented checkpoint-friendly design, as it stays in the case for clear X-ray scanning. Targus Travel-Topload Laptop Briefcase.
Construct of a durable all-nylon exterior, this case includes comfortable contour-molded padded handles and an ergonomic, contour shoulder strap. The pass-through trolley strap makes it easy to stack this case on top of rolling luggage for transport. With its extensive features, the Targus 15.6" Revolution Checkpoint-Friendly Briefcase carries the perfect companion for any on-the-go professional.
Fly Through Airport Security
Keep your laptop safe and protects while you travel with our patented checkpoint-friendly design. Just unzip the briefcase, lay it flat on the conveyor belt, and send it right through the X-ray machine. Your laptop stays inside of its dedicated pocket inside the briefcase during the entire security check where it's safe from bumps, drops, theft, and from being left behind at the TSA checkpoint.
Drop Protection
Minor drops and bumps no problem for the SafePort® Sling Suspension System. It uses a suspension cradle connected between the opposite walls in the main compartment so that your laptop is suspended, avoiding contact between the device and the case's base during drops. That way, it absorbs shocks so that your laptop is protected when you're on the go.
A Traveler's Companion
The patented checkpoint-friendly design of this Revolution case lets you send your bag through TSA screenings without removing your laptop. Just unzip the central zipper to lay the bag flat.
Intuitive Organization
With a removable accessory pouch and integrated document storage, this briefcase incredibly organizes, so that finding your pens, phone, and more is quick and easy. A phone pocket with a transparent window gives you a semi-transparent view of message and call activity while it stays in the bag.
Grab It. Shoulder It. Trolley It.
You never know what other packages, bags, or suitcases might accompany you on your travels, so the 15.6" Revolution Checkpoint-Friendly Briefcase comes with three modes of transport. A grab-and-go molded, non-slip handle is always at the ready. The contour and padded shoulder strap include, should you require your hands for other pressing matters. And a trolley strap sewns onto the back so easy to secure this bag onto your rolling luggage.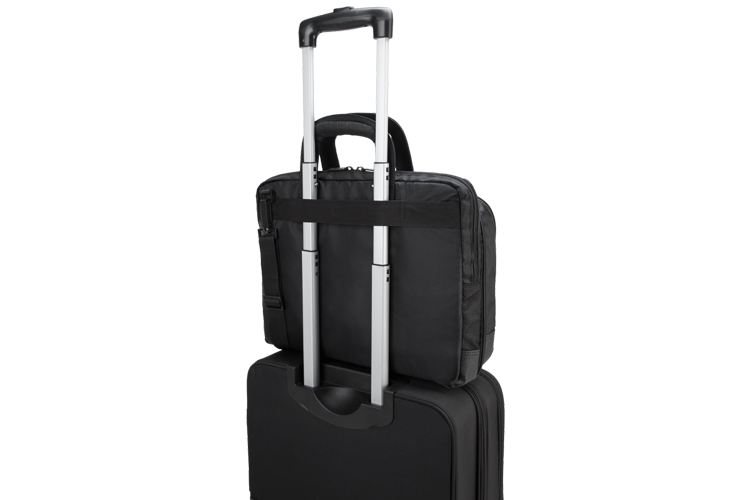 Targus Travel-Topload Laptop Briefcase.